Wall Mounted Letter Box
Sleek, slimline designs that suit both residential and commercial settings. These letterboxes simply screw onto the face of your fence or wall. Mail goes in under the top flap and comes out through the front door.
Decorate Your Home With Your Taste Using a Wall Mounted Letter Box
While it is undoubtedly a straightforward device, the right wall mounted letter box can add significant personality to your home. Choose Letterboxes Direct for a team that wants to help you find the perfect letterbox for your home or business. Our team has many options available in various materials and sizes to suit any home, and any stylistic preference. We can also cater to both residential and commercial clients.
Top Things to Consider When Choosing a Wall Mounted Post Box
With such a vast range of options available, choosing the right wall mounted mailbox can feel like an overwhelming task. Our team has narrowed down the essential aspects of choosing a mailbox to help you pick one that suits your home. Here is a brief list of things we think you should consider before making your purchase:
Always consider the size of the mailbox. Depending on how regularly you get mail or even the average size of your packages, you might need a smaller or larger mailbox. We have a range of options to choose from that can suit any size-based requirements, so make sure you browse our collection to find the right size for your home.
Take your environment into account when choosing materials. Always consider which wall you plan to mount your mailbox on, as this can make some materials more effective than others. If the wall has a roof over it and will prevent direct sunlight or rain from getting to the mailbox, less durable – but more attractive – materials are an excellent choice. Just the same, should your mailbox have direct sunlight and exposure to rain, a robust material such as stainless steel is better suited for the job.
Get a mailbox that suits your privacy requirements. Make sure to read the specifications of the mailboxes we offer so that you get one that suits your needs for privacy and security. Some mailboxes come with intricate locking mechanisms, and others are easy to open and don't require keys.
Make sure the colour and visual style of the mailbox suits your home. We offer many different colouring options, as well as assorted styles. Some of our mailboxes will work better with more modern-looking homes, while others will go well with older 'picket fence' styles. Make sure the colour you choose blends well with your home but stands out as a mailbox for easy visibility.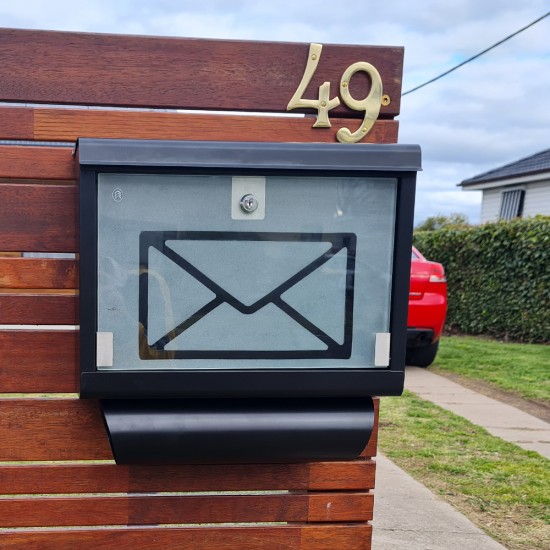 Reasons to Get a Wall Mailbox Instead of Other Available Options
With so many mailboxes to choose from, it's important to remember that they all serve purposes beyond being a drop-off point for your mail. Here are some of the main signs that tell you a wall-mounted option is for you: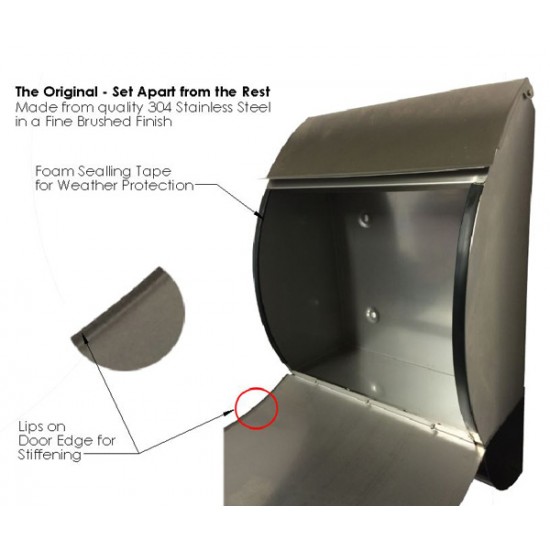 You have limited space or accessibility. There are some cases where it is not physically possible to insert a mailbox through a fence or wall due to size constraints. A wall-mount letterbox can often be the answer to these situations as you do not need to remove any bricks, blocks or palings to mount them. As mail is both deposited and retrieved from the front of these boxes, they are also a popular choice if there isn't access to the rear side of a wall.
You prefer a very simple installation. Our range of on wall or fence boxes are some of the easiest to install with no cutting, digging or concreting required. In many cases, a drill is the only tool you will need to screw the mailbox to the face of your fence or wall. For this reason, these letterboxes also make for an excellent solution when a temporary box is needed.
You prefer to have the cleaner look of a wall mount than a post-mounted letterbox. If it comes down to style, not everyone likes the look of a mailbox on a pole. Many prefer the simplistic, modern look of a box on a wall with nothing around it. It looks cleaner, and it takes up much less space.
Additional Mailbox Types We Can Provide if You Want a Modern Letterbox
If you would prefer something different to a mailbox mounted on your wall, you'll be happy to know we also provide many other options. Here are some of the additional options we can provide for you:
We have freestanding mailboxes. While these are functional mailboxes, they often look like a piece of art on the front of your lawn, which is certainly an attractive option for many.
We can provide commercial mailboxes. If you need many interconnected mailboxes, our services for commercial mailboxes should suffice.
We can design custom mailboxes. Our team can discuss specific requirements with you before manufacturing a custom mailbox if you have particular requirements. Whether you want a heritage letterbox or a standalone option, we can do custom work for any type you prefer.
About Our Team and How We Help You Choose the Right Wall Letterbox
Our team aims to give everyone access to services that simplify choosing your new mailbox. Whether you've recently renovated your home and want to replace your old mailbox or simply don't have one yet, we have many options for you to consider. Call us now and order your new mailbox, whether custom designs or something we have in stock.
Showing 1 to 9 of 9 (1 Pages)
Wall
,
Fence
,
Mailboxes