Brick-in Letter Boxes
Mailmaster supplies all types and styles of mailboxes for setting in your brick or block wall (or fence) and are the leaders in the field of customised stainless steel, copper and brass. These can come complete with laser stencil cutting (through cut and backed with a colour, usually colourbond) or engraved and infilled.

Many examples of our fine work can be seen accross Australia. Walk down the streets of Toorak in Victoria or the Double Bay and Vaucluse suburbs in Sydney, or take a bike ride through Bulimba in Queensland and if you see a good looking mailbox you can bet it is ours.
Stylish and Functional Brick-In Letter Boxes
A mailbox has always been equal to a personal signpost that designates the border of your domain. For this reason, the state of the box can be viewed as a reflection of the homeowner. No mailbox may say, keep away, a shabby box says the owner doesn't care, but a lavish brick-in letter box says, "here lives a great ruler who is proud of their kingdom".
Letterboxes Direct manufactures and supplies the highest quality mailboxes to Australians.
The Functional Aspects of a Brick-In Mailbox
A mailbox is foremost a functional part of any house or business premises. Any mailbox considered for installation must satisfy the requirement to receive and temporarily store letters and possibly small parcels securely until it is retrieved. The mailbox must also be identifiable as such by the mailman. Our mailboxes do all this.
Material. The most important aspect of a durable mailbox is undoubtedly the material used for its construction. A mailbox is exposed to the elements but is also touched daily. For this reason, we use premium stainless steel, copper, brass, chrome and aluminium to manufacture our brick-in letterboxes, which assures a lifetime of use and low maintenance.
Standards. All our mailboxes conform to AS NZS 4253:1994, the official standard for post boxes in Australia and adhere to the post office guidelines. This ensures that standard letters of up to A4 in size can be delivered to your address without being folded or damaged or requiring special pick-up at the nearest post office branch.
Features. We manufacture standard letterboxes. We also have designs available with a newspaper holder ring. After you furnish us with the particular specifications, we can also incorporate an intercom panel on most custom designs. Our brick-in parcel letter boxes are convenient in light of the rise in e-commerce and readily accommodates small packages delivered by the post office.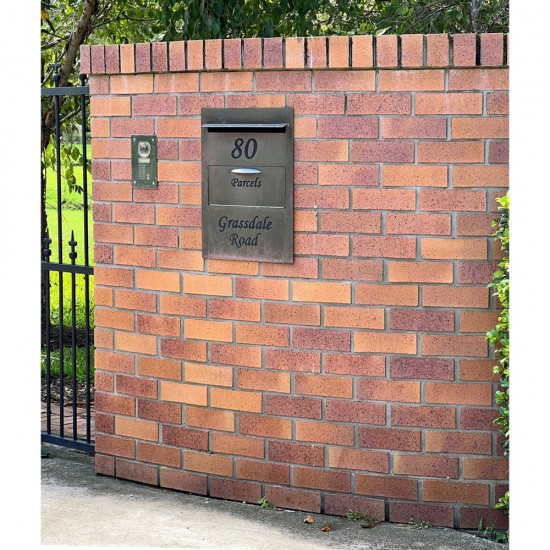 The Aesthetic Components of a Modern Mailbox
Apart from being highly visible, a mailbox should also be decorative and provide valuable information about the location. Hence, it should, as a minimum, display the street or unit number.
Many designs. We have many styles of mailboxes available, ranging from purely functional designs in stainless steel to intricate Georgian and Victorian varieties in brass. The actual design should always suit the architectural style of your home. There are over 17 different stainless-steel mailboxes in our catalogue, plus we can manufacture almost any custom design of architectural mailbox as a once-off or bulk order.
Lettering. Almost all our mail and parcel boxes have sufficient space to add custom writing and images on the faceplate. Several standard fonts and silhouettes are available. The lettering is done as laser stencil cutting and backed with a coloured metal plate of the same type as the primary material or engraved and filled in with a specified colour.
The Small Stuff About an Architectural Letterbox
There are many reasons why a quality letterbox from us is a sound investment that enhances the value of your property. Yet it is also important to realise the small stuff about our products that boost the benefit of our mailboxes even further. These points include:
Spares. We can supply owners of our mailboxes with all the spares necessary to maintain their boxes in tip-top form. All locks are replaceable with precisely similar locks, which means it is not required to drill new holes because of an unequal match. It is also possible to replace most keyed locks with a three-digit combination lock. Replacement keys are available for our commercial mailbox systems.
Numbers. It is undoubtedly possible to affix small brass plaques or steel numbers to the mailboxes. If you order a letterbox for a brick wall and the numbers together, you can request that we attach the numbers to the mailbox at the specified position. This service saves you the hassle of precise drilling, and since we have the right equipment, the job is always done perfectly.
Discounts. We offer trade discounts on bulk purchases of our standard mailboxes and custom designs. This allows builders of estate complexes to maintain a uniform look at an affordable price point.
About Letterbox Direct
We have been manufacturing mailboxes of the highest quality since 1985 for the Australian market and export via select distributors. The letterboxes are manufactured in our workshop in Brisbane, and each one is stringently inspected before we ship them to customers.
Letterboxes and mailbox kits are shipped to anywhere in Australia using trusted couriers. Small items such as replacement locks and tap guards are sent through Australia Post for delivery to the parcel box at your home.
We also have a large shop in Coorparoo that displays and sells our comprehensive range of standard mailboxes. Customers are invited to discuss their specific requirements, and our shop staff will assist with the right choice or help with a custom design.
Contact us if you have any questions about the correct brick letter box for your home.